Top Ten Tuesday was created by The Broke and the Bookish in June of 2010 and was moved to That Artsy Reader Girl in January of 2018. It was born of a love of lists, a love of books, and a desire to bring bookish friends together.
This weeks topic is Audio freebie so I'm listing my ten favourite audiobooks.
Good Omens – Neil Gaiman & Terry Pratchett – Another list with Good Omens on it. The BBC radio adaptation was released a few years ago now and was amazing. At the time I was incredibly excited about this after many delays and cancellations of a TV adaptation, five years later there's finally going to be one.
The War of the Worlds – H.G. Wells – I love the novel and musical version of The War of the Worlds so when audible released a version that combined the two it was perfect. This is the original novel, with some of the instrumental music from Jeff Wayne's musical version. I'd recommend this whether you're a fan of The War of the Worlds, or if you've never read it before.
We Are Legion (We Are Bob) – Dennis E. Taylor – This is an amazingly fun science-fiction. It's full of other sci-fi and pop culture references and the science is pretty accurate. The descriptions of space and other planets and wonderful and I found myself getting excited and nerding out so many times while listening to this.
The Soulbreaker – Sebastian Fitzek – I'm a fan of Sebastian Fitzek, and there's a couple of books now that have only been made available on audible, rather than translated into English. This is a gripping thriller even though parts of it are quite disturbing. I'd recommend it to anyone looking for a good thriller.
DI Jackman Series – Joy Ellis – I started listening to these in January, and have already listened to all four in the series. They're amazing crime stories and Richard Armitage does a wonderful job of narrating them. I'm waiting for the next one in the series to be narrated.
Kill Someone – Luke Smitherd – This was a really interesting book. The basic premise is that the main character has to kill someone in order to save the lives of five kidnapped women. It really made me think about what I would do in this situation, whether I could do it, and who I would kill.
Horrorstör – Grady Hendrix – This is a great horror story set in an IKEA type store.
14 – Peter Clines – This was an interesting science-fiction/horror. Parts of it were a bit too farfetched but overall I enjoyed it.
The Worldship Humility – R.R. Haywood – This is a sci-fi/space opera written exclusively for audio. It follows the basic plot of a space adventure but it's a really fun listen. I love sci-fi and I think sometimes you need to read/listen/watch something just because it's fun without any deeper meaning.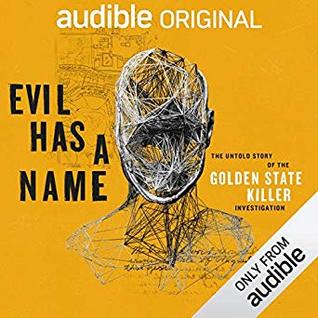 Evil Has a Name – This is an audible original rather than an audiobook but it was really interesting. I'm a huge fan of crime dramas but I haven't read/watched much true crime. Parts of the story were very disturbing, but it was fascinating to hear the story of the investigation and how they finally caught the Golden State Killer.
What are your favourite audiobooks?