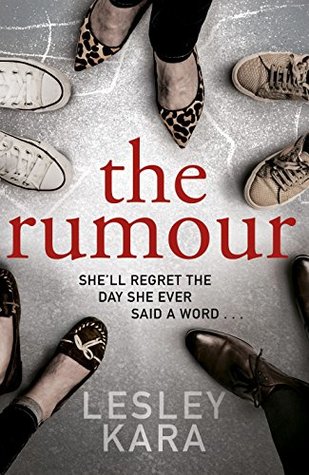 Joanna just wants her son to fit in when they move to a new town. So if passing on a rumour to the other mums gets him invited to parties, and the babysitting club, it isn't really hurting anyone. It's just a rumour.
Residents of Flinstead-on-sea don't take kindly to the suggestion that someone among them could be a child killer. Joanna can't stop the events that follow as tensions rise, and fingers are pointed. Joanna doesn't know who she can trust anymore, as she tries to protect her son.
This was a really interesting book. The story is told from Joanna's point of view and this gives a fascinating insight into the mind of a mother.
One of the most striking things about this book is how well Lesley Kara describes how the residents of the town react to the rumour. The reaction is very realistic, and it's easy to imagine how quickly this situation would reach boiling point in real life. Kara also manages to create sympathy for many of the characters, even when we suspect them of being the murderer.
I did see the twist coming but that didn't take away from my enjoyment of the story. I'll be keeping an eye out for future releases by Lesley Kara.